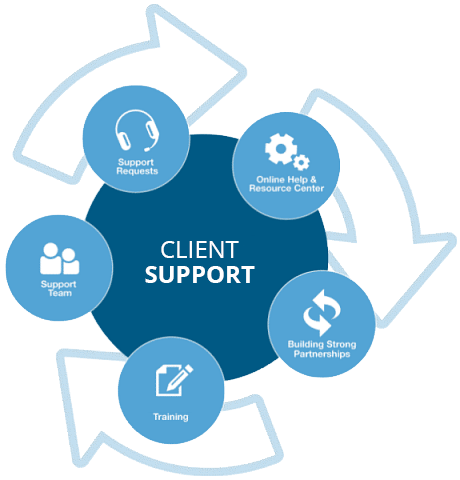 With a core focus on Software solutions and web-services, NetTantra also focuses on eCommerce seller Customer Support via emails and live chat services. With an exposure of more than 8 years in the industry, we are quite adept at handling your customers' queries, just the way you would like them to be taken care of.
The motive: Our Customer Happiness Engineers keep your customers delighted with their awesome services and you grow your business without having to worry a bit about your customer communications. We have a vested interest in your growth as we grow when you grow.
Our expertise: Our customer happiness engineers can easily navigate through any multi-channel software that you might be using. We have worked with several multi-channel softwares like Linnworks, Channel Advisor, etc.
We also have worked with email platforms like XSellCo, Reply Manager, SalesForce, etc. which bring all the customer email communications from multiple sales channels on a single platform. This makes your customer communications smoother, hassle-free and seamless, without you having to log in to various channels to reply.
All our support services have a maximum turn around time of 24 business hours.
What Our Clients Say About Us:
Introducing NetTantra to our customer service department was a daunting task for our team, we have never brought anyone from out of the office into this department before. Being based in the UK meant we had to put time into showing the team our flow of work, they took this in their stride and learnt quickly. The most apparent part was that we could completely trust their team to represent our company professionally with all of our customers. Their eagerness to learn and attentive care has made a significant difference to the way support runs. They have opened doors for other team members here to focus on other areas.If you want someone you can trust, and a team to put in that extra mile, these are your guys. Their work ethic is outstanding, they won't let you down. – Michaela Phillips, The Gift Oasis, UK.
We have been with NetTantra for quite a few months now. In the beginning, we were a little reluctant to pass our customer services to NetTantra, but we decided to have a go anyway. Today, I can honestly say that it was the right move for us, they are very professional and are always looking to improve and offer better customer services and support. We can see the results of their work in our feedback and customer's replies, our customers are always happy with the great level of services received and we now have the peace of mind and more free time to concentrate on other things. – Marcos Jager, Managing Director, Alivo, UK.
We have been using NetTantra for more than 6 months now and I can say that the standard of service is higher than what I had initially expected. They are very professional in handling customer queries and they work towards getting the problem solved for the customer at the earliest possible. They are also very good at listing. Post taking NetTantra's services I am relaxed and I can completely rely on them. Honestly, the service I am getting is excellent and I recommend to opt for it without a second thought. – Viral Modi, New 'N' Nice Fashions.
Why NetTantra
Some studies suggest that more than 50% of the efforts of an e-commerce seller goes into providing customer service to sustain the desired feedback scores. However, if this 50% of the effort is focused appropriately on sales and strategizing optimum growth avenues, this would certainly see a definite increase in your sales volume. This is where we come in to assist you with it.
To outsource the entire customer services to professionals who deliver their best in quality of services, at par with international standards.
Trained professionals with the requisite technology acumen ensure high definition support and retain the 1st time shoppers for repeat business.
Extensive research helps us understand the reasons for cart abandonment and customer dissatisfaction, thus, helps us figure out better ways to improve our skills.
Integrated chat, and emails with high-end internet bandwidth ensures uninterrupted connectivity with our clients.
Customized reports help us with an insight of optimum RoI and to take informed decisions regarding sales projections and further investments.
Value-added services like content tweaking on the website, technology support etc. can reduce issues like multiple vendor management.
eCommerce Client Support Pricing Plan »
Please contact us here for bulk orders or free trial on any of our Support Plans.